Vente-Privee.com surpasses one billion euros
Vente-privee.com will certainly be celebrating on the occasion of its upcoming tenth birthday. In front of an audience of journalists, Jacques-Antoine Granjon, the site's co-founder, introduced the advertising film Desire. As with a special sales event, it will be released in France on only two occasions: on tv channel M6 and on Paris Première this week. Filmed in 2010 and having a duration of 2 minutes and 50 seconds, the spot was directed by Dutch photographer Erwin Olaf. It highlights, in retro styling, the game of seduction by playing on the gaze of a woman - does it rest on the parcel or on the deliveryman. Along the route of the deliveryman, scenes from everyday life are turned upside down. "Desire is part of our DNA, and private sales blend a bit of addiction with a little frustration and a desire to indulge," said Granjon.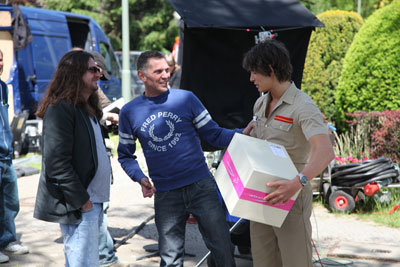 Jacques-Antoine Granjon and Erwin Olaf on the set - Photo: Vente-privée.com
- Photo: Vente-privée.com
For the founder, the occasion of the site's tenth anniversary has provided an opportunity to revisit its long history which, in fact, goes back 26 years. "The company I founded dates back to 1985 and we did revamp an old business - the sale of discontinued items," he said. He added that Vente-Privee is one of the few sites to have been founded by professionals who know the business and its raw material: unsold stock. Since 2007, the founder says there have been about 500 companies that the French site has inspired but, in his view, these have not been profitable. As he sees it, e-commerce is dead and we must now speak of global trade, because the Internet is now integrated into the very business strategy of brands.

In figures, the group consisting of 1,500 employees, is quite impressive when you consider the 175 million products it has made available since the launch of its site or the 3 million Euros (4.1 million USD) in sales that it makes daily. In 2011, management expects a 14% increase in sales revenue, including taxes, which is expected to reach a figure of 1.1 billion Euros (1.5 billion USD). After years of strong growth, Vente-Privee is in the process of consolidation and diversification. On the supply side, travel, which now has its own dedicated site, is slated to be involved in the company's future growth.
The project Rosedeal, which offers coupons whose face value is much higher than their price, allows retailers to attract customers to their stores whether they be real or virtual. VPticket, which is modeled like a kiosk, allows users to buy tickets for shows at the last minute. "It is possible that in 2013, the supply of name brands will shrink. These projects will also permit us to be less dependent on fluctuations in supply," Granjonn explained. 


The company's other avenue of development is clearly international. Vente-Privee now generates about 80% of its sales on the French site. Within a short time, however, it has acquired a presence in eight European countries; notably, it has made its U.S. debut on November 9th. For its transatlantic journey, the group created a joint venture with American Express, with each partner investing 18 million dollars. In Europe, its new presence in the Netherlands has made it possible to set up an English-language website for the European market, enabling it to quickly address the needs of the Scandinavian markets.


Meanwhile, Granjon has repeatedly noted the independence of the company and the fact that it has never had to raise funds. In other words, an IPO is not on the agenda.

(€1 = 1.37 USD)
Copyright © 2023 FashionNetwork.com All rights reserved.