Vente-privee.com heads to the States
Vente-privee.com is crossing the Atlantic. While the leading European private online retailer prepares for this new milestone, official details about the project will be announced on May 12th. On this day, the site's co-founder and president Jacques-Antoine Granjon will attend a conference in New York to answer questions from journalists and reveal "its establishment in the United States via a partnership with a major global company".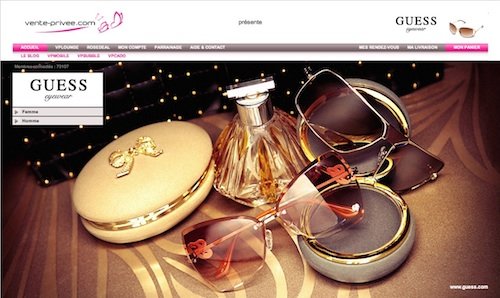 Vente-privee.com flash sale for Guess Eyewear
Although nothing is yet confirmed, it is understood that the partnership is with a company of great importance and will be "full of surprises". According to our sources, Vente-privee.com has allegedly entered into an agreement with American Express. The two companies have known each other and worked together for almost three years. The online retailer, however, denies any such agreement.
American Express is known for catering to wealthier customers and offering co-branded credit cards, especially with airlines companies, which means that it could potentially recommend Vente-privee.com to millions of its clients. The group announced on its corporate website that purchases made across the globe with American Express cards amount to 620 million dollars. It is needless to say that Vente-privee.com would quickly find a client base that matches its ambitions.
With 20% of its capital belonging to equity investment firm Summit Partners, Vente-privee.com is expanding its international presence significantly with the addition of the United States. The website is already largely successful in France and started exporting to Germany in 2006. Today, it is also present in Spain, Italy, Austria, United Kingdom and Benelux. With 1,332 employees spread across the 7 countries, Vente-privee.com turned over 969 million euros (all taxes included) in 2010, registering a 15% growth compared to 2009.

Bruno Joly et Jean-Paul Leroy
Copyright © 2023 FashionNetwork.com All rights reserved.