Samsonite and McLaren sign licensing agreement
McLaren and Samsonite have signed a licensing agreement and announced the creation of a series of top of the range luggage that will be co-named McLaren Sport and Samsonite Black Label.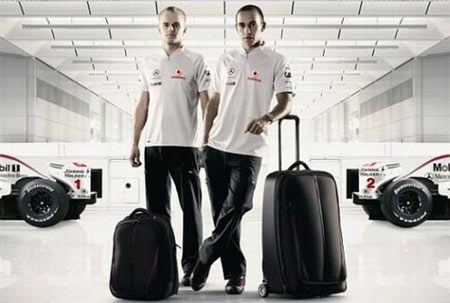 McLaren Sport Samsonite Black Label, seen here with McLaren F1 drivers Heikki Kovalainen (L) and Lewis Hamilton (R)
"We are happy to put our hundred years of experience as the leader in the travel sector, and more recently in the business field, at McLaren's disposition. Thanks to this partnership we have been been able to draw inspiration from the world of Formula 1 to create a new line of high-performance products with an innovative design. Furthermore, it is a confirmation of the manner in which two historic brands, that share a common interest in the search for excellence, can work together to create new items for consumers who are demanding more and more", said Beppi Fremder, Chief Marketing Officer of the Samsonite Corporation.
The results of this collaboration will be available in the autumn-winter 2009/2010 season in Samsonite boutiques and participating retailers across the world.
In the meantime, the Vodafone McLaren Mercedes team is travelling with prototypes from the line in order to test them out. Each member of the team, around one hundred people, has received a laptop rucksack and 75cm suitcase; so far, the McLaren Sport Samsonite Black Label collection has already covered more than 64,160 kilometres.
By Jonathan Fulwell (Source: Sarah Ahssen)
Copyright © 2023 FashionNetwork.com All rights reserved.