Next pares back hopes for 2012
LONDON - Next, Britain's No. 2 clothing retailer, cautioned sales and profit growth in 2012-13 would be modest, citing concerns over the euro zone debt crisis, a credit squeeze and rising unemployment.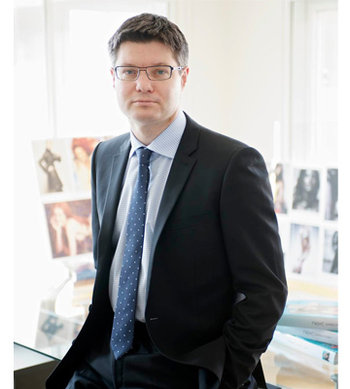 Lord Wolfson of Aspley Guise, Chief Executive
Shares in Next fell nearly 4 percent on Wednesday after the firm said it would meet profit forecasts for the year to end-Jan. 2012 - guiding to a figure 7 million pounds either side of 565 million pounds ($883.4 million)- but expressed concern about the outlook for the following year.
"Our internal budgets for the year ahead show modest growth in overall Next brand sales with profit before tax only slightly up on this year," it said on Wednesday.
Analysts at Numis cut their 2012-13 profit forecast by 3 percent to 574 million pounds.
Chief Executive Simon Wolfson said the euro zone debt crisis has started to negatively impact consumer behaviour in the UK.
"My sense is the underlying economic situation is slightly worse than it was in September and that the only thing that's really changed is the situation in Europe," he told Reuters in an interview.
Wolfson, a prominent supporter of Britain's ruling Conservative Party who sits in the upper house of Parliament, said the crisis had put the brakes on British employment growth and affected consumer sentiment, business confidence and the banking sector.
Kicking off the post-Christmas UK retail reporting season Next, which has a long standing policy of never going on sale before Christmas, said total sales, excluding VAT sales tax, rose 3.1 percent year-on-year in the Aug. 1 to Dec. 24 period.
That compares with analysts' forecasts of a rise of 3-4 percent and an increase of 3.3 percent in the third quarter.
Sales at its over 500 stores in the UK and Ireland fell 2.7 percent. But this was offset by a 16.9 percent leap in sales at its home shopping service Next Directory.
Next said it was disappointed with sales in November and December as macro headwinds and high levels of competitor discounting took their toll.
Wolfson said rivals discounting was "more than I've ever seen before."
Shares in Next, which prior to Wednesday's update had risen 37 percent over the last year, were down 97 pence at 2,644 pence at 0918 GMT.
Britons' disposable incomes are being squeezed by rising prices, muted wages growth and government austerity measures, and with unemployment at a 17-year high, confidence hit a 34-month low in December.
With the retail outlook bleak fears are growing of a wave of retail failures equivalent to that which saw Woolworths go under in 2008-9.
A handful of small privately owned retail players went into administration over the Christmas holiday, including toy store Hawkins Bazaar and fashion chain D2 Jeans, after quarterly rent fell due on Dec. 25.
Later on Wednesday John Lewis Britain's biggest department store group will update on its Christmas performance.
Having posted a 20.7 percent year-on-year rise in sales in the four days to Dec. 21, albeit against a snow-hit period last year, the firm is expected to have outperformed rivals.
By James Davey
© Thomson Reuters 2022 All rights reserved.