Neiman Marcus operating profit rises as sales soar
Neiman Marcus Group Inc's quarterly operating profit rose sharply as high-end shoppers' growing willingness to pay full price for designer dresses, shoes and handbags sent sales soaring.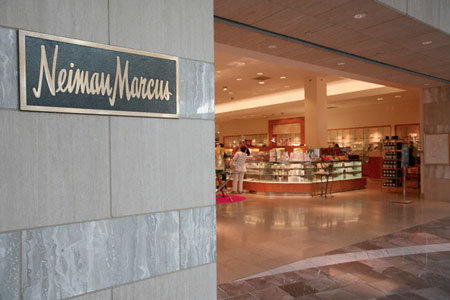 Entrance to a Neiman Marcus store in Paramus, New Jersey (photo by Corbis)
On a call with investors on Tuesday, Neiman Chief Executive Karen Katz said that high end shoppers have so far not been scared off by the recent stock market volatility, calling it "the new normal." Still, she conceded that if it the daily dose of bad economic news continues, it "could temper our customers' zeal for shopping."
Katz said the most expensive products have sold very well and that Neiman will continue to focus on affluent shoppers.
Neiman, a privately held operator of a namesake chain of upscale department stores, outlets and Bergdorf Goodman, posted operating earnings of $17.5 million for the fiscal fourth quarter, up from $4.5 million a year earlier.
For the full year, EBITDA, which measures earnings before interest, tax, depreciation and amortization and is the figure most closely watched by private equity companies looking to take a company public or sell it, was $524.7 million, up 17 percent from the previous year.
That would value Neiman at $5.4 billion by one methodology commonly used by bankers.
The company, bought for $5.1 billion in 2005 by an investor group led by private equity firms TPG Capital and Warburg Pincus LLC, refinanced some of its debt earlier this year and redeemed some senior notes, steps viewed as aiming to ready the retailer for an eventual initial public offering or a sale of the company. The chain won upgrades from rating agencies Moody's and Standard & Poor's.
Neiman's quarterly results echoed those of rivals such as Saks Inc, Nordstrom Inc and Macy's Inc's Bloomingdale's chain. All enjoyed sales gains in their most recent quarters as luxury spending rebounded.
Neiman reported a steeper quarterly net loss of $61.4 million, compared with $32.8 million a year earlier. Most of the increase came from an after-tax loss of $42.7 million on debt extinguishment that was part of the company's efforts to lower its long-term debt, which was $2.7 billion as of July 30.
As previously reported, quarterly revenue rose 11.3 percent, while comparable revenue rose 11 percent.
For the year, revenue came to $4 billion, much higher than last year but still well below the $4.6 billion of fiscal 2008, before the financial crisis struck.

(Reporting by Phil Wahba in New York, editing by Gerald E. McCormick, John Wallace, Dave Zimmerman)
© Thomson Reuters 2022 All rights reserved.