JJB Sports turnaround to take three years
By James Davey
LONDON, May 27 (Reuters) - Struggling British sportswear retailer JJB Sports (JJB.L) said its recovery would be neither quick nor easy, as it posted a wider full-year loss that reflected a haemorrhaging of sales in 2009.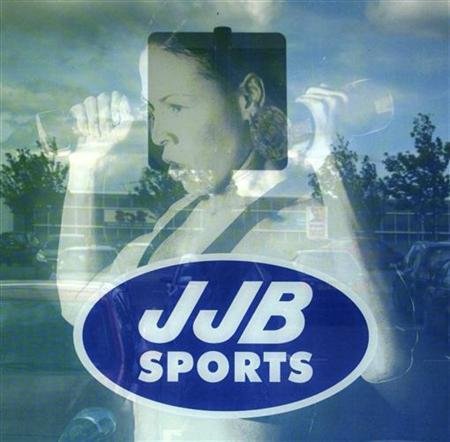 Keith Jones, who joined as chief executive in March from electricals retailer DSG International (DSGI.L), said on Thursday 27 May trading had improved in the new financial year as stock for the World Cup and summer ranges was received.
Jones said his turnaround strategy will focus on targeting keen amateurs, recreational sports participants and sporting families, a market he estimated to be worth 2.5 billion pounds ($3.6 billion).
"There are no short cuts to be taken while turning this business around and we expect it to take three years of hard work and determination," he told reporters.
He plans store refit trials, enhanced trading over the Internet and better products and promotions.
"We have to heal the scars of the past and get much much better at the basic business of retailing," he said.
JJB shares, which had lost 38 percent of their value over the past six months, were down 3.7 percent at 19.75 pence at 0910 GMT, valuing the business at 119 million pounds.
The 250-store JJB avoided administration last year by selling its fitness clubs for 83 million pounds, pushing through a debt restructuring deal with creditors, raising 100 million pounds of new capital and renegotiating banking facilities.
It made an underlying pretax loss of 68.5 million pounds in the year to Jan. 31. That compared with forecasts for a loss of 63-69 million pounds and came after a 21.8 million loss in 2008-09.
Revenue slumped 42 percent to 372.5 million pounds after suppliers, fearful of the company's future, held back new stock.
Sales at stores open over a year fell 27.3 percent, while gross margins plummeted 8.9 percentage points.
In the 16 weeks to May 23 sales at stores open over a year rose 7.5 percent and are up 19 percent in May so far. Gross margin had also improved 6.8 percentage points to 43.6 percent.
However, analysts noted net cash has dipped to 5.6 million pounds from 58.5 million at the financial year-end
Matthew McEachran, analyst at Singer Capital Markets, said this highlighted JJB's cost of funding working capital and the continuation of losses in the current year so far.
Britain's retailers are emerging from a deep recession but fear steps to rein in a record state deficit, like higher taxes, will hit consumer spending in the months ahead.
JJB's woes have been good news for rivals Sports Direct (SPD.L), Britain's No. 1 sportswear retailer, and JD Sports Fashion (JD.L), which have both taken market share.
JJB also named John Clare as chairman. The former chief executive of DSG had been acting chairman since January. (Editing by Mark Potter and Dan Lalor) ($1 = 0.6947 pound)
© Thomson Reuters 2023 All rights reserved.