JJB Sports first half sales fall, sees improvement in fourth quarter
LONDON, July 24 (Reuters) - Struggling British sportswear retailer JJB Sports (JJB.L) on Friday 24 July said first-half like-for-like sales were in line with its expectations while sales and margins should improve in the fourth-quarter.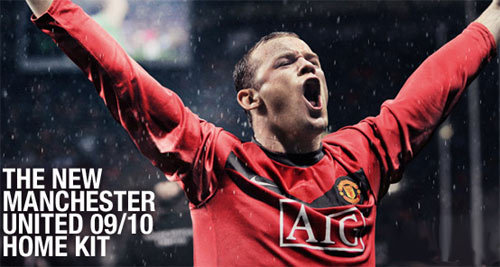 The new Manchester United home kit 2009/2010 at JJP Sports - Photo: www.jjbsports.com
JJB, which came close to administration earlier this year, said underlying sales fell 40.4 percent in the 25 weeks to July 19 due to low stock levels.
The group, formed in 1971 in Wigan, northwest England, said its gross margin was 11.2 percent lower than in the same period last year but that it expects sales and margins to pick up in the coming months.
"The company expects a gradual improvement in sales as new stock is received, which will also improve gross margin. However, due to lead times between ordering the product and its delivery of up to 6 months, the company still does not anticipate any significant improvement in sales until the fourth quarter of 2009," it said in a statement ahead of its annual general meeting in Wigan.
JJB said it "continues to fully support" executive chairman David Jones over a 1.5 million pounds ($2.48 million) loan extended to him by Mike Ashley, the founder of rival chain Sports Direct (SPD.L), which some observers said caused a conflict of interest at JJB.
Shares in JJB were 2.8 percent up at 27.5 pence by 1015 GMT.
(Reporting by Rhys Jones; editing by John Bowker)
© Thomson Reuters 2023 All rights reserved.