By Mark Potter

LONDON (Reuters) - Demand for affordable designer clothes, such as a 60 pound ($87) leopardskin print dress by Julien Macdonald, helped retailer Debenhams beat first-half profit forecasts and eased fears about its debts.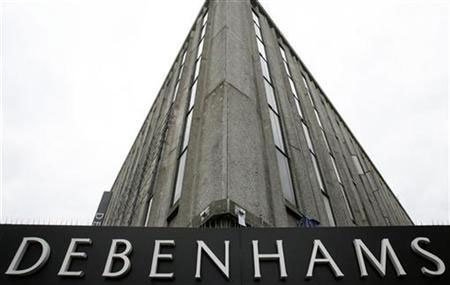 Photo: REUTERS/Andrew Winning
Shares in the country's second-biggest department store group, which were hammered last year on fears about the firm's 900-million-pound-plus debt pile, surged as much as 23 percent to a 15-month high of 78 pence on Thursday.
The results provided the latest sign that consumer spending has held up better than many people had feared in the economic downturn, although Debenhams said it was "still a tough climate" and decided against paying an interim dividend.
"Consumers ... are not just trading down to discounters but they also want catwalk and quality products and are prepared to pay for them, provided they're at affordable prices," Chief Executive Rob Templeman told reporters, adding the group may have picked up trade from luxury goods firms.
Tesco, the top retailer, said on Tuesday it was seeing signs of stabilising in many of its markets, while on Thursday stationer WH Smith posted a smaller-than-expected fall in first-half profit and Sports Direct said it would meet earnings forecasts.
Debenhams, which runs over 150 shops across the UK and Ireland, said pretax profit rose 10.7 percent to 104.2 million pounds in the 26 weeks to February 28.
The company had said in March that first-half profit would top last year's 94.1 million pounds, with higher profit margins offsetting a 3.6 percent drop in like-for-like sales. But analyst forecasts were still pitched around 95 million pounds.
STAND OUT
"Debenhams results today stand out against the sector," said analyst Matthew McEachran at brokerage Singer, while analysts at Citi expect the full-year consensus profit forecast to rise around 20 percent to 115 million pounds.
Debenhams said like-for-like sales were up 1.9 percent in the seven weeks to April 18, with the rise in profit margins much higher than the 10 basis points delivered in the first half.
The first-half performance was driven by an 11 percent rise in sales of the group's "Designers at Debenhams" ranges, which offset a double-digit percentage decline in sales of lower margin sales from concessions.
Templeman said designers such as Jasper Conran, Betty Jackson and Julien Macdonald would be given more space and the company was launching new ranges such as Blue Zoo for children.
Debenhams shares, which refloated at 195 pence in 2006 after 2-1/2 lucrative years in private equity hands, plunged to as low as 20-1/2 pence last year on worries over its debts.
But they have bounced back this year on optimism it may not need an equity fundraising and that, if it does, shareholders will be supportive after a string of resilient trading updates.
"It is important that leverage is taken off the agenda," Debenhams reiterated, but declined to say how it would do this.
"This business is incredibly cash generative," Templeman said. "If we believed there was an issue with any (debt) repayments we would not be deploying 100 million (pounds) of capex (capital expenditure) each year," he said.
Net debt was down 66.8 million pounds to 927.2 million.
Templeman declined to say if Debenhams would pay a full-year dividend. He said the interim payout was scrapped to help pay for investment and opportunistic acquisitions, but added he was not interested in any of the department stores that might become available from a restructuring at Germany's Arcandor.
At 7:50 a.m., Debenhams shares were up 19.7 percent at 76 pence, valuing the company at about 621 million pounds.
(Editing by Hans Peters and David Holmes)
© Thomson Reuters 2023 All rights reserved.