Vatican takes legal action over Benetton pope kiss ad
The Vatican said on Thursday it would take legal action to stop the distribution of a photo montage in an advertisement by the Italian fashion firm Benetton showing Pope Benedict kissing an imam on the mouth.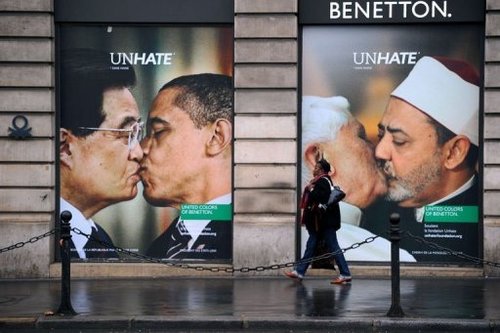 Photo : AFP
A statement said the Vatican had told its lawyers in Italy and around the world to "take the proper legal measures" to stop the use of the photo, even in the media.
It was not clear from the statement if the Vatican intended to sue Benetton directly for damages.
The statement said the ad was "damaging to not only to dignity of the pope and the Catholic Church but also to the feelings of believers."
Benetton said Wednesday night that it was withdrawing the advertisement, part of the firm's latest shock campaign, in which a number of world leaders are seen kissing each other on the mouth in photo montages.
The withdrawal came after the Vatican issued an initial protest which called the use of the unauthorized and "manipulative" use of the pope's picture in the photo montage totally unacceptable.
"This is a grave lack of respect for the pope, an offence against the sentiments of the faithful and a clear example of how advertising can violate elementary rules of respect for people in order to attract attention through provocation," spokesman Father Federico Lombardi said Wednesday night.
A large banner with the image of the pope and the imam was hung from a bridge near the Vatican Wednesday morning but later removed.
But Thursday morning the picture was still on the window of a store in the square at Rome's Trevi Fountain, one of the most popular tourist sites in Rome.
The photo montage of the pope kissing the imam on the mouth was still widely available on the internet Thursday morning.
In its statement announcing the withdrawal of the ad, Benetton said the purpose of its campaign was "exclusively to fight the culture of hate in every form" but said it had nonetheless decided to withdraw the image.
"We are sorry that the use of an image of the pontiff and the imam should have offended the sensibilities of the faithful in this way," it said in a statement.
Other photo montages in the same campaign, in which Benetton says it supports the Unhate Foundation, show other world leaders kissing each other on the mouth.
U.S. President Barack Obama is shown kissing Venezuelan President Hugo Chavez in one.
The Italian clothing company has run controversial advertising campaigns in the past, including one that showed grieving parents at the bedside of a man dying of AIDS.
(Reporting By Philip Pullella; Editing by Tim Pearce)
© Thomson Reuters 2021 All rights reserved.