US companies say consumer pullback continuing
By Nicole Maestri
NEW YORK (Reuters) - Many economists expect the U.S. recession to end in the second half of this year, but companies catering to consumers showed on Wednesday that the prolonged downturn and rising unemployment are taking a toll on business in the near term.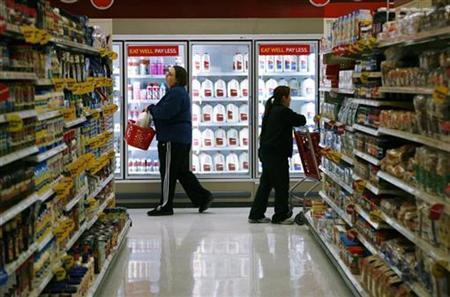 Capital One Financial (COF.N), a leading issuer of MasterCard and Visa credit cards, said U.S. credit card defaults rose in March as unemployment soared, while American Express (AXP.N), with its higher-end cards, saw its defaults rise only slightly.
Meanwhile, Burger King Holdings (BKC.N) saw a surprise drop in customer visits to its hamburger restaurants in March.
The head of Wal-Mart Stores (WMT.N), the world's biggest retailer, said he does not anticipate a quick end to the recession as consumers face mounting job losses.
"There's still a lot of stress," Wal-Mart CEO Mike Duke said on a taped interview on NBC's "Today Show."
"It's not a 'V' recession, where we're just going to bounce out and come back," he said.
The latest comments come a day after a government report showed that sales at U.S. retailers unexpectedly fell 1.1 percent last month. On Wednesday, the Labour Department said U.S. consumer prices posted a surprise drop in March, recording their first 12-month decline in nearly 54 years.
The data underscore the severity of the U.S. recession and show consumers are keeping a tight grip on their wallets.
Duke said that by the end of the month, just before traditional paydays for many workers, customers are left with only a few dollars to spend.
Shoppers buy bigger boxes of diapers at the beginning of the month, when they get paid, then gravitate towards smaller boxes when cash is tight later in the month, he said.
He also said clothes for infants and children are selling better than adult apparel, as parents forsake the latest styles to keep their growing children clothed. Shoppers are also buying more vitamins, hoping to keep themselves healthy and avoid having to miss a day at work.
Duke said the downturn will lead to a "sustained change" in the way that families live.
CHARGE-OFF RATES RISE, FEWER FREQUENT BURGER KING
Capital One said the annualized net charge-off rate for U.S. credit cards -- debts the company believes it will never collect -- rose to 9.33 percent in March from 8.06 percent in February. The rate for loans at least 30 days delinquent dipped slightly, to 5.08 percent from 5.1 percent.
At American Express, the net charge-off rate rose to 8.8 percent from 8.6 percent and the rate for loans at least 30 days delinquent fell to 5.1 percent from 5.3 percent.
Capital One, due to report its first-quarter results next week, forecast more credit losses this year as debt-burdened American consumers struggle with unemployment, which hit a 25-year high in March.
Capital One shares fell 6.8 percent while American Express jumped 7.5 percent.
The latest Blue Chip Economic Indicators survey of private economists, released last week, showed that 86 percent of economists surveyed thought the recession would end in the second half of this year.
Much of the anticipated turnaround in the U.S. economy, now in its 16th month of recession, would be driven by some improvement in consumer spending, housing, business inventories and exports. Yet above-trend growth was not expected until the second half of 2010.
"We ... remain concerned that further gains in unemployment and housing market pressures will delay a consumer recovery until 2010 at the earliest," Andrew Wessel and Daniel Kim, analysts at JPMorgan, wrote in a report.
Burger King, best known for its Whopper hamburgers, said it faced an "unanticipated traffic slowdown" in March across most company-owned restaurants, which hurt its quarterly margins.
Stifel Nicolaus analyst Steve West said Burger King has no company-owned eateries west of the Mississippi River and the U.S. traffic declines were likely due to weakness in the Southeast or mid-Atlantic regions.
So far in April, the hamburger chain said same-store sales have improved, due in part to efforts to attract diners in Germany and Mexico.
Its shares dropped 18 percent, while competitor McDonald's (MCD.N) traded down 3.1 percent.
(Additional reporting by Aarthi Sivaraman and Juan Lagorio in New York, Lucia Mutikani and Emily Kaiser in Washington, and Lisa Baertlein in Los Angeles, editing by Gerald E. McCormick)
© Thomson Reuters 2023 All rights reserved.