TPG sells Debenhams stake to hedge fund
By Simon Meads
LONDON (Reuters) - U.S. buyout house TPG sold its stake in Debenhams to an unnamed hedge fund, a source familiar with the situation said on Wednesday 28 October, netting some 100 million pounds.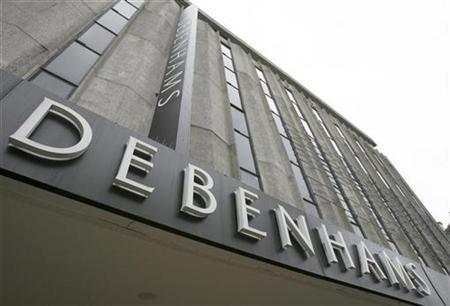 TPG sold its remaining stake of more than 120 million shares -- some 9 percent of the department store chain's stock -- at 81.6 pence a share, a slight discount to their market price, down 2 percent at 82.65p by 1111 GMT, the source said on Wednesday 28 October.
Some said the sale could be a precursor to a bid for Debenhams.
"A bid for the group currently valued at 1.1 billion pounds looks possible," said Manoj Ladwa, senior trader at ETX Capital. "Though the deal looks good on paper, the question has to be asked where the buyer will come from?"
But one banker said the stake was unlikely to lead to a bid, given the difficulties raising finance in debt markets.
TPG declined to comment.
Debenhams last week bucked the gloomy economic outlook to report profits before tax, goodwill and one-off items up 14 percent to 125.2 million pounds. It has also reduced its weighty debt burden, a throw-back to its private equity-owned days, by almost half over the last year to under 500 million pounds.
Och Ziff, the hedge fund which owns a stake in privately-owned budget fashion retailer Peacocks, has been mooted as a possible buyer in press reports. No-one at Och Ziff was available for comment.
TPG is the second of Debenhams's original private equity backers to fully exit the business, following Merrill Lynch Private Equity. Only CVC retains a small stake in the business.
(Additional reporting by Victoria Howley and Jon Hopkins; Editing by David Holmes)
© Thomson Reuters 2022 All rights reserved.