To the Mafia's horror, pizzo-free shop opens Palermo doors
PALERMO, Italy, March 9, 2008 (AFP) - If it succeeds in its lofty aims, the first shop in Palermo showcasing goods from businesses who refuse to pay Mafia extortion fees will eventually be forced out of business.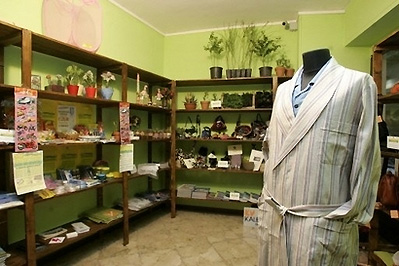 The first shop in Palermo showcasing goods from businnesses who refuse to pay mafia extortion fees - Photo : Marcello Paternostro/AFP
"If everyone was like him (a neighbouring baker who broke the 'omerta' code of silence and spoke out in court against the racket), I'd be out of business," co-owner Fabio Messina let slip at Saturday night's opening.
Suddenly recovering his poise, he quickly expressed just that hope, reasoning it would mean "everyone (refusing) to pay the 'pizzo'."
But that is the symbolic value behind the appearance of this unusual store on one of the Sicilian capital's main streets.
It comes four years after a grassroots revolt when mysterious stickers appeared on walls throughout the city, reading simply: 'A people which pays racketeers is a people without dignity.'
The movement started by enterprising students later spawned 'Addiopizzo,' a Sicilian trade grouping of companies who refuse to pay protection money, of which Messina and girlfriend partner Valeria Di Leo are members.
"Even the tiniest purchase, no matter how inexpensive, is enough to send out a signal so that things can change," the 28-year-old Di Leo told AFP.
Curious onlookers can browse offerings such as oil, honey, pasta, wine or handicrafts and jewellery, produced by some 30 distinct businesses, in the 55 square metre (600 square-foot) store.
"We haven't received any political backing, and in any case, I never expected we would get that," Messina added.
The baker, Vincenzo Conticello, operates just a few hundred metres, or yards, from the shop inevitably dubbed 'Pizzo-free' by locals.
And Messina believes that forcing consumers to address the issue in such a provocative fashion is the best way to trigger a change in attitudes to the Cosa Nostra.
According to one study published in January, almost one billion euros (1.5 billion dollars) finds its way into the hands of the Mafia each year, 1.3 percent of Sicily's gross domestic product.
According to Palermo University, the pizzo averages 457 euros (640 dollars) a month for retail traders and 578 for hotels and restaurants, but construction companies are asked to pay over 2,000 euros per month according to economic daily Il Sole-24 Ore's figures.
"The idea of such a shop is as delicious as it is simple," said Enrico Colaianni, president of another association of entrepreneurs and business figures fighting the racketeers' demands.
"All you need to do is introduce consumers to producers, neither of whom want to pay the pizzo, and bring about a common bond, a more ethical consumption and a client loyalty which is absolutely guaranteed," he added.
His organisation, Libero Futuro, is named after one such entrepreneur, Libero Grassi, assassinated in 1991 for having dared to speak out publicly against Mafia extortion.

by Marcello Paternostro
Copyright © 2021 AFP. All rights reserved. All information displayed in this section (dispatches, photographs, logos) are protected by intellectual property rights owned by Agence France-Presse. As a consequence you may not copy, reproduce, modify, transmit, publish, display or in any way commercially exploit any of the contents of this section without the prior written consent of Agence France-Presses.