Picky Chinese workers spell end of cheap labour
By Simon Rabinovitch
FENGQIU COUNTY, China (Reuters) - For decades, China's massive workforce of factory hands and construction workers had little choice but to work long hours in often poor conditions for pitifully low salaries.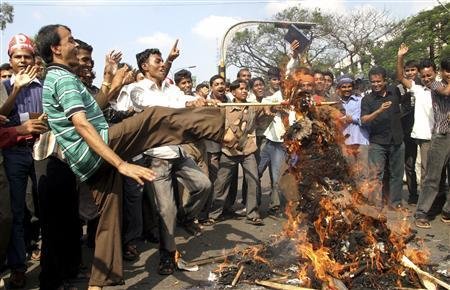 But a mushrooming of factories, even in the country's sluggish interior, mean that these days workers have more clout than ever when hunting for jobs. Wages are being pushed up and firms' margins are being squeezed.
"Companies are finding it harder and harder to get people," said Xue Guojie, visiting his parents' three-room farmhouse in Henan, a central province which is home to millions of migrant labourers who fan across China ever year.
Business might be booming in China but the workforce is shrinking as the "one child policy" generation -- products of a 1979 law banning couples from having more than one child -- enters the crucial 18-35 age bracket, the main workforce for factories.
Sporting a jean jacket and skateboarding shoes, Xue is a perfect example.
The 23-year-old air conditioner factory worker expects to receive a 100 yuan (6.92 pounds) increase to his 1500 yuan monthly wage when he returns back to work after extending his Chinese New Year holiday by two weeks, something unheard of in the past.
"My boss would rather give me more than find and train someone new," Xue said.
It seems far-fetched that China's vast pool of workers in a population of 1.3 billion, nearly half of whom still live on farmland, could be drying up.
But a shrinking labour force at a time when factories are springing up across the country, including in dusty rural districts such as Fengqiu County in central China, means that workers can afford to be more selective about where they work.
Most migrant labourers still head to coastal cities to find work, seeing their families once a year over the New Year festival and then rushing back to their jobs.
A growing number, though, are choosing jobs closer to home.
Droves of smaller factories have moved inland as the government, aiming to spread China's development more evenly, uses tax breaks and looser pollution controls to lure them to poorer central provinces, away from the traditional manufacturing heartland near Hong Kong.
A smaller workforce for more jobs in more locales translates into stiffer competition among businesses for new hires. Migrant workers' pay is increasing by as much as 15 percent a year from low single-digit growth a few years earlier, UBS economist Jonathan Anderson calculates.
FACTORY HANDS, FARM HANDS
China's poor hinterland has already despatched 130 million cooks, waiters, cleaners, builders and line workers across the country, according to the national agricultural census.
The remaining rural labour force of 530 million is about the number that economists think can earn a fair living off the land. In other words, the countryside no longer has vast reserves of hand-to-mouth farmers whose only hope is to move to a city.
"This village is just old people and children. Everyone else has already left," said Du Shicheng, 51, a farmer in Henan's Fengqiu county whose two adult children work at a mobile phone factory in the east.
Money sent back by the children allowed Du and his wife to build a two-storey home last year, though it is half empty as the bottom floor offers more than enough space for the two of them and one grandchild.
It is a story that rings true throughout the countryside.
Migration has delivered as much as 50 percent of rural China's income through remittances but at the same time it has depleted villages and broken up families, explained Ran Tao, a rural expert at the Chinese Academy of Sciences.
Du said his village has an official population of 2,000 but only 1,500 people live there year round, and they are mostly at the grey-haired end of the spectrum.
The government, worried about an ageing population and diminishing workforce, is studying whether to slacken or even scrap its controversial one-child policy.
"We want incrementally to have this change," Vice Minister of the National Population and Family Planning Commission Zhao Baige said in late February. "This has become a big issue among decision makers."
And manufacturers have not been shy about voicing their displeasure about the higher wage bills.
Complaints have built to a fever pitch in the Pearl River Delta, China's manufacturing base in the south, where industry organisations warn that as many as 15,000 factories may close.
Most of these are smaller footwear and textile makers that have relied on cheap labour to corner the global market in low-value-added production.
"While overall Chinese light industrial margins have been surprisingly stable over the past few years, 2008 will likely mark the year manufacturers were finally forced to take a general hit on profitability," Anderson at UBS noted.
STILL COMPETITIVE
Margins will be less of a concern, though, for makers of computer chips, airplane parts and other more sophisticated goods, as they have benefited from a dramatic rise in Chinese labour productivity over the past decade.
Increases in labour skills have far outstripped increases in pay, so higher wages now represent basic catch-up for workers, Stephen Green, economist at Standard Chartered, wrote in a recent report.
And China remains relatively inexpensive, with wages 25 percent below those in Mexico, for example.
"China will still retain much of its competitive wage edge over the next five years," he said.
But there are also clear signs that economic power within China, for years massively tilted towards employers, is slowly shifting in the direction of workers.
The labour ministry in the southern province of Guangdong said last week that 11 percent of migrants had not returned after the New Year in early February, leaving businesses scrambling to fill positions.
Workers have also gained more of a voice, often through activist lawyers, in fighting for back pay and challenging abusive conditions or the litany of other contract violations that are rife in Chinese factories.
The changing landscape is laid bare at a Zhengzhou job fair where local inland factories and firms from the country's industrialised coastal areas compete for workers.
Factories based in the home province of Henan are the main attraction for the crowds of job seekers including Zhang Shilei, a 23-year-old who earned 2000 yuan a month as a machinery designer in Guangzhou last year.
"Wages here (inland) are definitely lower than in the south but the difference is not huge and the cost of living is much higher there," said Zhang.
It's no surprise that Zhang wants to work closer to his family. It took him three days to get home for his brief Chinese New Year holiday in early February due to unusually harsh weather that disrupted the rail network.
"Inland China is developing quickly and we should be able to get work here," he said. "And I want to be closer to my mom and dad."
© Thomson Reuters 2021 All rights reserved.