JJB board backs Jones over Ashley loan
LONDON (Reuters) - The board of sportswear retailer JJB Sports (JJB.L) has given its "unanimous support" to Executive Chairman David Jones over a 1.5 million pound loan he received from Mike Ashley, majority shareholder of arch rival Sports Direct (SPD.L).

In a statement from JJB the board said details of the loan, taken out by Jones to invest in private technology company Advanced Network Technologies, were made known to it earlier this year.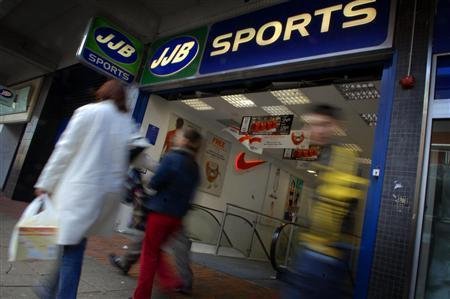 "The board is clear that the arrangement, that was initiated before Sir David joined the company as a non-executive director (October 2007), has not given and does not give rise to any conflict of interest," said JJB.
It said Jones has informed the board he intends to repay the loan as soon as possible.
Jones, a former chairman and chief executive of fashion retailer Next Plc (NXT.L), was appointed JJB's executive chairman in January and played a crucial role in pushing through a company voluntary arrangement (CVA), a rarely used insolvency process, to help the company survive.
On Saturday 4 July JJB said it was considering an equity fundraising as one of a number of ways to provide extra capital, which prompted its shares to fall 25 percent on Monday 6 July.
Shares in JJB, which have lost three quarters of their value over the last year, were unchanged at 23.25 pence at 11:14 a.m., valuing the business at 58 million pounds.
Nobody from Sports Direct was immediately available for comment.
(Reporting by James Davey; Editing by Jon Loades-Carter)
© Thomson Reuters 2023 All rights reserved.