J&J executive named Avon CEO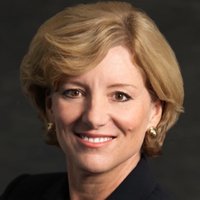 Sherilyn McCoy
Avon Products Inc (AVP.N) on Monday said it named Johnson & Johnson executive Sherilyn McCoy as its new CEO, ending a four-month outside search for a fresh face to lead the company and turn around sales at home and abroad.
The news comes a week after the world's largest direct seller of cosmetics rejected a takeover bid from fragrance company Coty Inc.
McCoy, 53, was with the pharmaceutical company for three decades, and most recently served as vice chairman of Johnson & Johnson's (JNJ.N) pharmaceutical, consumer, corporate office of science and technology, and information technology divisions. McCoy will also serve as a director on Avon's board. She will take up the new post April 23.
In December, Avon announced it would look outside the company for a replacement for current Chairman and CEO Andrea Jung, 53, who will become executive chairman.
Some Avon investors said last week that they wanted to wait to see a new CEO's plans for the company, rather than accepting a bid for Coty. Coty could not immediately be reached for a comment on the appointment.
Avon's new CEO faces the tough task of turning around a company that has seen sliding sales at home and in emerging markets such as Brazil and Russia. The new CEO will also have to work to boost the morale of its diminished and often demoralized army of U.S. sales representatives.
The company, famous for the "Ding Dong, Avon Calling" advertisements in the 1950s and 1960s, also faces a federal probe into whether it broke U.S. anti-bribery laws overseas.
The new CEO has "a unique combination of strategic and finely honed operational skills, a significant turnaround track record, global experience and people leadership," Fred Hassan, lead director of Avon's Board, said.
McCoy will report to the company's board of directors, Avon said in a statement on Monday.
J&J VETERAN
McCoy was promoted to the post of vice chairman at J&J in December 2010, setting her up as a possible successor to CEO William Weldon. But in February, J&J announced that Alex Gorsky, who was named vice chairman at the same time as McCoy, would be the company's CEO, effective April 26.
McCoy joined J&J in 1982 as a scientist in the company's personal products unit. She had been in charge of J&J's pharmaceutical division since 2009 and has held senior management roles in the company's medical device business.
Since January 2011, McCoy also ran J&J's consumer products business, which had been besieged by a series of recalls of an array of brands, including Tylenol.
In a statement, Weldon said McCoy "was instrumental in helping to bring stronger strategic focus to our pharmaceutical business as it builds a robust pipeline and launches important new medicines; and to our consumer business as it leverages the success of its iconic brands and worked to resolve some recent challenges."
Avon's shares fell about 2.9 percent to $22.75 in premarket trading on the New York Stock Exchange.
(Reporting By Dhanya Skariachan and Lewis Krauskopf; Editing by Gerald E. McCormick and Maureen Bavdek)
© Thomson Reuters 2023 All rights reserved.