Berkshire quarterly, 2006 profit surge on insurance
By Jonathan Stempel
NEW YORK (Reuters) - Warren Buffett's Berkshire Hathaway Inc. on Thursday said fourth-quarter operating profit surged 56 percent, helped by improved insurance results a year after it paid out billions in hurricane claims.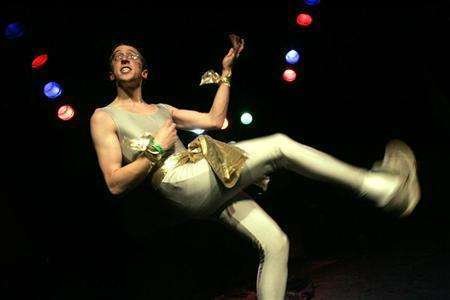 "Our most important business, insurance, benefited from a large dose of luck: Mother Nature, bless her heart, went on vacation," Buffett wrote in his annual letter to Berkshire shareholders.
Earnings for Omaha, Nebraska,-based Berkshire rose to $2.87 billion, or $1,859 per Class A share, from $1.84 billion, or $1,196, a year earlier. Revenue rose 3 percent to $26.23 billion.
Analysts on average expected $1,401 per share according to Reuters Estimates.
Net income, including investment gains and losses, fell 30 percent to $3.58 billion, or $2,323 per share, largely because of a $3.25 billion year-earlier gain from Procter & Gamble Co.'s purchase of Gillette Co., a large Berkshire holding.
For the full year, profit rose 29 percent to $11.02 billion, or $7,144 per share, while operating profit surged 86 percent to $9.31 billion, or $6,036 per share. Berkshire said its book value rose by $16.9 billion, or 18.4 percent per share.
Following a difficult 2005 storm season that included $3.4 billion of payments related to Hurricanes Katrina, Rita and Wilma, Berkshire raised premiums amid fears of more storms, and as many rivals cut back on underwriting. Insurance usually generates more than half of profit.
"It was a tremendous year, a banner year, driven by strong insurance results across the board," said Justin Fuller, an equity analyst at Morningstar Inc. "(Auto insurer) Geico is knocking the covers off the board, and reinsurance results were strong because of the tranquil hurricane season."
Buffett cautioned shareholders to expect insurance results to "deteriorate" in 2007. He also said that while Berkshire remains prepared to lose $6 billion from a single storm, it has "sharply reduced" exposure to wind claims because rates are falling.
In addition, Buffett said it may be "wishful thinking" to expect the U.S. economy to enjoy a "soft landing" over the longer-term, given rising U.S. debt levels and the amounts of wealth generation being moved overseas.
Berkshire Class A shares closed Thursday up $410 at $106,600 and its Class B shares rose $31 to $3,554. The Class A shares are up 23 percent in the last year, topping 9 percent gains in the Standard & Poor's 500 .SPX> and insurance .GSPINSC indexes.
SUCCESSION
Known as the Oracle of Omaha, Buffett has transformed Berkshire since 1965 from a failing textile company into a $164 billion conglomerate by buying out-of-favor companies with strong management and businesses, and investing in stocks.
Berkshire owns more than 50 companies that make things including Benjamin Moore paint, Dairy Queen ice cream, Fruit of the Loom underwear and Ginsu knives, and invests in such stocks as American Express Co., Coca-Cola Co. and Wells Fargo & Co..
Buffett, 76, repeated that Berkshire has three potential successors should he die or become incapacitated. He also said he intends to higher a younger person to eventually succeed him as chief investment officer when the need arises.
Analysts have said potential chief executives could include General Re Corp.'s Joseph Brandon, Berkshire Hathaway Reinsurance's Ajit Jain, Geico's Tony Nicely, NetJets Inc.'s Rich Santulli, and MidAmerican Energy Holdings Co.'s David Sokol.
Berkshire ended the year with $43.74 billion of cash, despite acquisitions including utility PacifiCorp, apparel maker Russell Corp. and Israel's Iscar Metalworking Cos.
It ended 2006 with a $1 billion foreign currency contract stake, similar to three months earlier, and down from $13.8 billion a year earlier. Buffett began betting against the dollar in 2002, amid concern about U.S. trade and budget deficits.
Buffett is the world's richest person after Microsoft Corp. Chairman Bill Gates.
In June, Buffett signed over most of his fortune, estimated in September at $46 billion by Forbes magazine, to the Bill & Melinda Gates Foundation and four family charities.
© Thomson Reuters 2023 All rights reserved.